My grandfather, "PopPop," had plenty of money but wore the same Wal-Mart swim trunks for a decade. He loved to sing but couldn't carry a tune in a bucket. He once called into a radio show and sang on the air for a "worst singer" contest and got second place. Even into his late 70s, PopPop was still riding in the Atlantic waves on a boogie board, wearing his Yankees hat and yard sale sunglasses.
PopPop was a twice-on-Sundays-plus-Wednesday-evenings churchgoer. As a child I remember watching my grandparents pack up and leave their shore house in South Jersey on Saturday evening so they could make the hour drive home and be ready for church Sunday morning.
PopPop passed away in October 2015. He was 89. He had 6 children, 47 grandchildren (I was #3), and 23 great grandchildren.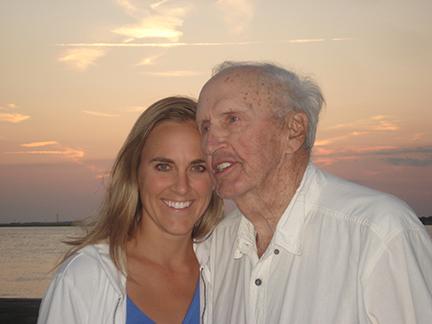 Even after he passed, his shore house remained a magnet. Last summer it pulled in my parents, me and my family, and my six siblings and their families—19 of us in total. We traveled from North Carolina, Chicago, Colorado, California and South Africa to get there. We road boogie boards and went to the boardwalk. We played board games and shuffleboard when it rained. We rode creaky bikes around town to garage sales. We sat on the screened porch telling stories, many of them featuring PopPop.
The atmosphere was more melancholy than usual because my mom and her brothers are planning to sell the house this fall. I found myself thinking about my grandfather constantly while at the house this summer.
I have thousands of memories of PopPop at that house—36 summers' worth. This moment is one of my favorites.
I was probably in my 20s, and a few of us were lingering on the screened porch after a meal when my father asked PopPop: "Dad, what's the one most important thing you did raising your family?"
I was sure he would say something about going to church. Or maybe pick up the copy of The Daily Bread devotional on the table next and say something about family devotions.
But his answer surprised me. Without a moment's hesitation, like he'd been waiting for the question, he said: "Family vacations."
And that, for me, is PopPop's legacy.
He not only gave our family 36 years of family vacations at the shore, but he passed on a value my siblings and I hold tightly to—the value of spending time together. I'm so grateful.
My grandfather was so generous during his lifetime; I'm curious if he left any charitable gifts in his estate plan. I wonder if some thoughtful development person or church leader ever thought to ask him for a legacy gift. If they knew him well enough to ask for a gift to support something he loved—his church, the ministry where his wife volunteered for decades, a prolife cause, a fund to give poor families a vacation together—I can't imagine he would have said no.
I love hearing about the relationship side of fundraising. I love talking to development people who genuinely care about the people they serve and the donors they work with. They might not be viewed as the most "time efficient" because they're willing to linger over coffee with a person and talk for hours. They might not be called "strategic," but they are flexible and willing to let new ideas from others change the plan. They are, I believe, better positioned than anyone to ask for a legacy gift—because they have taken time to really get to know people.
I had the privilege of talking with two of the people who head up development at Reality Ministries in my city of Durham, NC. They "waste" inordinate amounts of time just being with people. They regularly choose not to ask for donations out of respect for relationships.
It's not the only way to run a nonprofit. It may not even be the best. But they sure are inspiring people to be around. They are leaving their own sort of legacy.
This article originally appeared as my Editor's Note in GIVING TOMORROW magazine.